You can join Frigidaire and Jennifer Garner in supporting Save the Children.
You can directly help kids in need this holiday season just by clicking a button on your computer.
It's simple and fast.
Set a virtual place at the table.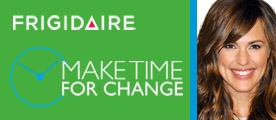 Every day you do this and register, Frigidaire will donate $1 to Save the Children to help children in need this season.
It takes just a minute and couldn't be easier.
*As a bonus, you'll be entered to win a $50 gift card and a chance at the Grand Prize -- a Frigidaire Profession freestanding gas range.